Chicago is the third biggest city of United States by population. It has high speed and high quality internet and its centered location is ideal for hosting your websites and apps. In this post, we are going to feature top 10 VPS hosting companies  who have their data centers in Chicago, Illinois.
WiredTree:
Wired Tree was founded in June 2006. Since then, they're providing superior managed VPS hosting and dedicated hosting services. Their customer service is a top notch. Wired Tree servers are housed in 427 LaSalle data center facility located in downtown Chicago. These data centers have UPS and diesel generator power backup. These data centers are equipped with latest technology and are monitored 24 hours.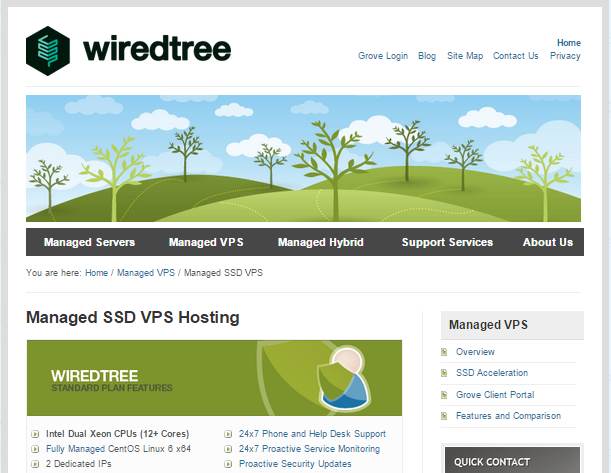 Data Centers: Chicago
Support: 24/7/365 Phone and email support, also help desk.
OS: Linux
Cost: $45+
Payment methods: PayPal, Check, Visa, MasterCard, American Express, Discover
VPS.net:
VPS.net was launched in 2009 and is a part of UK2group. They offer high quality managed and unmanaged cloud VPS services. Their cloud servers are hosted in 18 different data center locations in USA, Europe, Asia, Australia, Canada and Brazil.
Data Centers: Their servers are located in 18 different locations worldwide including Chicago. You can choose your preferred data center location during signup.
Support: 24 hours support by live chat, phone and emails/tickets.
OS: Linux and Windows
Cost: $15.00+
Payment methods: You can pay by PayPal, Visa and MasterCard.
Siteground:
Siteground is in business since 2004. They offer shared, semi-dedicated, reseller, WordPress, VPS and dedicated hosting. They have data centers located in USA, Europe and Asia.
Data centers: Chicago (USA), Amsterdam (NL), Singapore (SG)
Support: 24/7/365 Live chat, phone and email/ticket
OS: Linux
Cost: $68.95+
Payment methods: Visa, MasterCard
TMDHosting:
TMDhosting is a small hosting company but they have great reputation. They have four data centers in USA and one in Amsterdam, Netherlands.
Data centers: Chicago (IL), Elk Grove (IL), Houston (TX), Phoenix (AZ), Amsterdam (NL)
Support: 24/7/365 Live chat, phone and email/ticket
OS: Linux
Cost: $35.95+
Payment methods: PayPal, Credit cards