As the job market slowly recuperates from the recession, many people are now looking add a little creativity to their line of work instead of settling for a boring desk job.
Creative careers seem to be a growing trend in the US today. With more institutions, corporations and agencies looking for creative solutions in their organization, people are now seeing the importance of creative skills for career advancement.
If you're looking for a creative job but don't know where to start, here are a few other money-making creative job suggestions that will put the passion back into your career plan.
Public Relations Specialist
When you hear the term "public relations", you might think about Hollywood publicists and professional media spinners. However, PR is more than just publicity, it encompasses an entire realm of public-directed information systems that are beneficial to both organizations and target public's. If your strengths lie in talking and writing, the PR specialist job may just be for you.
The PR specialist is responsible for managing an organization's reputation, writing creatively to pitch story ideas, creating partnerships with media organizations and cultivating relationships with stakeholders and its public's. Typically, PR specialist positions have a median salary range $53,000 to start. This job is perfect for people that have degrees in communication, journalism, English or business.
Architect
If you like drawing and have a keen understanding of math, architecture could be a creative job worth studying to attain. Being an architect involves more than just drafting blueprints for contractors and developers. Known as one of the most hands-on, creative career paths, architects also need to possess great communication skills, an eye for detail and and the ability to interact with the professionals from all fields. The median salary for an architect is $73,340, making it one of the highest paid creative careers in the job market.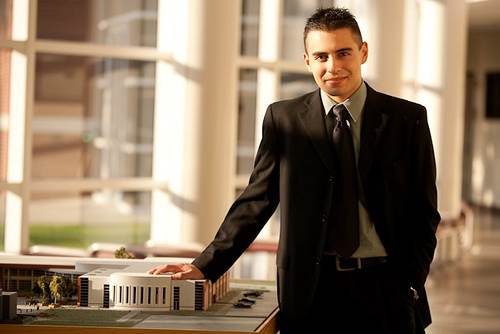 Art Director
If you've ever been drawn to artistic layout of your favorite magazine, or perhaps enjoyed the wonderful animation in your favorite Saturday morning cartoons, you may have already been exposed to the creative work of an art director. Art directors are responsible for managing the artistic content within an agency, media organization or corporation in all of its forms of communication.
Usually, art directors are hired based on education and experience, specifically, a bachelor's degree in fine arts and three to five years in an art-related position. If you're looking for a job that allows you to create and deliver groundbreaking work across all media channels, offers creative freedom and pays an average salary of $81,260, art direction could be what you've been looking for.
Musicians
A career in music is indeed high-risk, but the benefits always pay off. Musicians have the ability to work for themselves (most common), work for a company (entertainment agency) or at schools or colleges (professors, teachers). Usually, professional musicians have a formal education in music, although it's not required. Experience is a must! If you would like to go into the music field but have no education, you may want to find a good, qualified piano instructor to get you started.
The average salary of a musician is about $43,000 according to recent data. The professional opportunities in music are expected to grow about 10% in the next few years, which means it's a perfect career choice for students earning their degree in music, performance or musical education.
Whatever your career choice, make sure that the career path you choose is one that allows you to express passion for your work. For creative careers, its easier to find that hidden passion. So, if you're looking for a job that pays well and allows you to have creative freedom, a creative career could be something to think about.
Best Creative Jobs You May Want to Consider