Social media is pointless unless you have people actually reading it. In order to influence more people, you need to focus on these 3 underlying principles then integrate these 25 ways to get more social media followers.
Don't Be a Jerk:
Be extra awesome to your current followers! One of the biggest faux pas is simply not thanking your new followers or fans. Every time you get a new follower, especially on Twitter, give them a "thanks for following" shout out. You lose more followers than you know simply by not acknowledging them.
Get Intimate:
Ok, you don't have to know what color underwear they're sporting. I mean get to know your audience and what they really want. If you want to grow a follower or fan base you have to know what they want, which may not necessarily be what you want. Just because you love to instagram photos of your latest meals doesn't mean they care (normally no one does, sorry). Maybe they want to see a cool motivation quote. Experiment and see what they like. But don't just copy what you see another social star does. Your audience is unique and so are you. Be a 1st rate version of yourself not a 2nd rate version of someone else.
Consistency is Key:
All of the strategies in the world don't work if you pop on social media for a few days then disappear for a few weeks. You need to be active. Every. Single. Day. Yes, I know that can sound daunting. But, if it was easy, everyone would do it. If it matters to you, you will do it or you will outsource it (to someone like me) to do it for you. Oh, any anyone who tells you they have the magic trick to get hundreds of followers from doing only one thing or in 8 minutes a day, please don't fall for it. Remember 8 Minute Abs? Do you see a bunch of hotties with 6 packs running around from that? Case closed.Now check out the 25 ways to get more social media followers. #social #socialmedia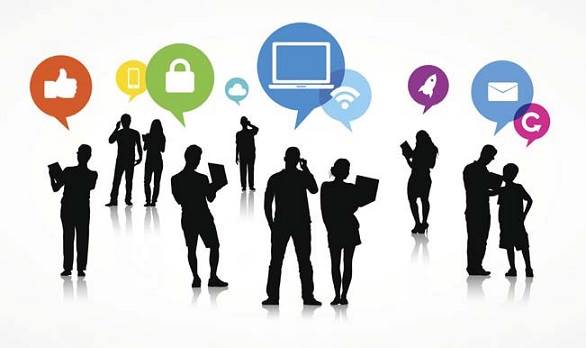 25 Ways to get more Social Media Followers
This may sound obvious, but put social share buttons everywhere, especially on any blog posts you have. Make it easy for people to click to share with their audience.
Link all your accounts on your contact and about pages. And, if you're really hip, add a social hub to your blog or website.
Track your posts! See what gets the most action. See who the cool kid is when it comes to what you post. There's lots of platforms to easily track this. Have contests for free giveaways! Who doesn't love some free stuff? Make sure people have to "like" or "follow" your account to be entered. T
Don't you hate being ignored???!!! Respond! This should go without saying. If someone posts a question or even a comment, be nice and respond. Again, if they are already a follower, treat them like gold and hear them out  And, keep in mind if they post something controversial just go with it! That can build more buzz than anything boring!
Stalk people. There's nothing wrong with this. After all, that's how I found my husband (HA!). Look up people and see who you might like to follow and ask them to in return. Or, just get into their convos. A great way to do this is to look up hashtags and see who's saying what. Who knows, you may even find a BFF (or a spouse) from it!
Find cool people. Reach out to influencers! You can use a tool such as Buzzsumo. Share their content, tag or mention them and post on their blog. Building relationships with influencers can mean they will be more likely to share your info to their big fanbase.
Quality wins. When posting focus on quality instead of quantity. Yes, it can seem amazing to post a blog every single day. But, if that blog is rather "blah" then you can build yourself a reputation of not being a quality info sharer.
Use hashtags! I'm not sure why so many people seem to have an aversion to hashtags. They're so much fun. Use a tool like Twubs or Hashtagify.meto find trending hashtags. Then, use these in your posts to get more followers. Some popular ones right now are #follow #followback #teamfollowback #news #retweet #rt and more!
Bedtime stories. Tell stories as opposed to simply sharing info or being promotional. Who doesn't love a good story? This is especially true if it is funny or emotionally compelling. Tap into emotions. Be real. People like real people not surface nonsense. I live in LA and there's plenty of that!
Email your peeps. If you have an email subscriber list (if you don't, you must do this) be sure to occasionally email them as ask them to follow your social media accounts. If they're already on your email list they clearly like what you have to say.
Promote on Pinterest! Create topical boards and link everything you pin back to your website, blog, or social media account that you want people to look at. This is a soft approach that works very well. Also, name your boards using keywords. When you start typing a name it will automatically bring up trending keywords. Use them. Don't ignore them.
This may seem obvious again, but make sure your social media account names and links are correct and show that they are part of your business or you as a person. I can't tell you how many times I'm on a website and I click a social media link and the account can't be found. One small typo can cost you lots of fans. Don't be careless about it. And, keep it consistent with your brand. If your company is Bob's Shoes then please don't name yourInstagram SuzyCA18F. (creepy)
The perfect mix. Post original relevant content but also share other people's content. This keeps your pages interesting and informative while building relationships with others.
Include your social media links on business cards and collateral that you hand out. Make it as easy as possible for people to find you and follow you. This is great for conventions or meetings.
Cross promote on your own accounts. For example, send an occasional tweet with your Facebook url to remind people to follow you there too. And, with that being said, don't post the same content across all channels all the time. Why would anyone want to follow all of them then? Mix it up.
Streamline efforts. There's a gazillion social media platforms out there now. Don't worry about all of them. Focus on what you can manage and do it well. I normally recommend Facebook and Twitter. And, when you can, add in Instagram. Focus on the channels that you can master and that have the biggest audiences.
Post viral content. Post Planner can help by providing images and content that have been proven to go viral.
Promote posts. Facebook offers a Promoted Post option. With this you can spend just a bit (I recommend trying with just $5) and your post will reach more people. Only do it if it's a really awesome post and don't waste too much on it.
Where to land? Create landing pages on your site for visitors from each social network you're on and link them to your social media bios. F
If you have a store or brick and mortar business, promote your social media accounts there! Most will happily send you free stickers for windows. This is especially great for Yelp.
Guest post on popular niche sites. Be a regular contributor and link to your social media accounts in your guest post bio.
Provide info without being egotistical. No, you don't know everything… sorry. Be unique and provide insights based on your industry knowledge and experience. But, don't come off as a know-it-all.  Do you like to read stuff from people like that?
Be active in Linkedin groups. Provide insights and value to those members and they will be more likely to follow you.
Be a trend setter follower! Be a source of trending content and breaking news. Set up interest lists on Facebook and follow leading industry sources on Twitter. Then, share the breaking news.
What tips do YOU have? Tell me! Comment below.
25 Ways to get more Social Media Followers