Are you searching for ways via which you can make some extra money online? Well then share "shareAsale" is something new that you need to try! Now the question arises what is share sale? And how it works? Answer to this question is very simple; it was started in 2000. And its kind of platform where blogger and marketers can submit the programs of their product and services.
Make Money with ShareASale Affiliate Marketplace
Before proceeding to the working of shareAsale there are certain terms that you need to know and this includes:
Merchant: merchant is the owner, he owns and develops an affiliate program so that subordinate associate can join and increase the rate of their business in return to a fixed commission.
Affiliate marketers: they are subordinate associate or I'd say people like me or you can joins an affiliate program.
Affiliate software: any software where affiliate program is been hosted; shareAsale is one among them.
Affiliate marketplace: place where merchants can present their programs and subordinate assistant to choose and join any of them.
Above mentioned terminologies were the prerequisite, now let's see
How shareAsale works:
Head over to ShareASale site & Signup for a free account.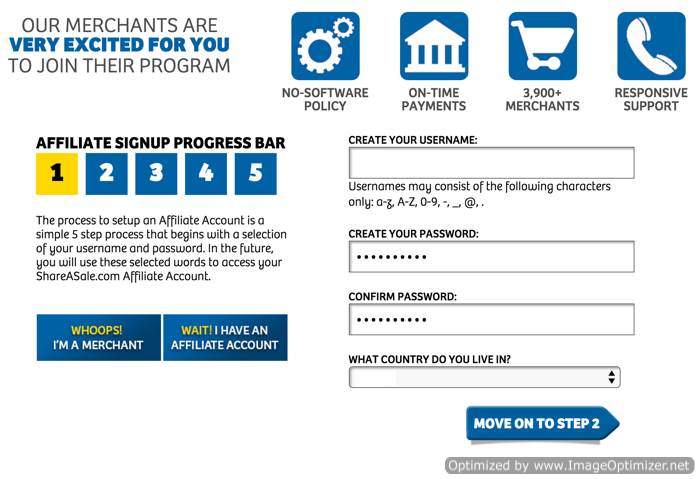 After hitting so this web you need to click on to "move to step2". This will enable you to make an account on shareAsale.
Keep one thing in mind and that is in order to make an account on ShareAsale you'd be supposed to have a website of your own.
ShareAsale Website Requirements: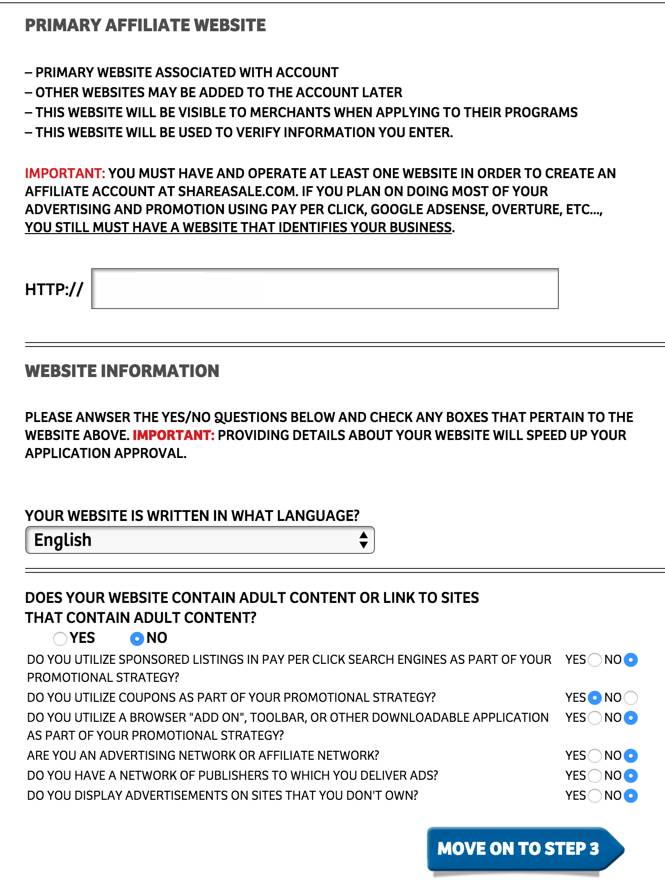 There's another point on which you need to ponder is the site that you're going to enter should be working, merchants will check your site once to try to join their program; and if you have a non-working site there is a greater chance that your request will get rejected.
Now, in step3 you're supposed to enter an email address. And the last step is to enter your personal details. Your payment will be delivered to you via check, ACH and you can sort this thing later on.
Once you're done with all the above mention details you're now ready to click on "move on to the next step" where you can enter your payment setting or click on to skip. Once, you're using shareAsale account you can change your payment setting according to your convenience  and after doing all this now you're ready to check your email address and click on to the confirmation link.
After the completion of this whole thing it might take couple of days to approve your application. After getting your approval you are ready to learn shareAsale interface.
How to add affiliate adverts to your blog from ShareASale
How to add affiliate adverts to your blog from ShareASale from aissa bahamed on Vimeo.
To sum-up, I hope above mentioned steps are written clearly to help new candidates to setup their account on shareAsale. This will help them to make some extra money online by getting a fixed commission.
Would love to hear from people who are already making money with ShareAsale!
How To Make Money with ShareASale Affiliate Marketplace