Here is some food for thought. The freemium business model is a lot like dating. For those unaware, freemium is a term used to describe a service that can be used for free, but upgraded to a premium membership. Though the similarities may not seem immediately obvious, the steps by which a person becomes a user of a freemium product closely resemble the steps of a relationship. Today we explore these steps in the order in which they usually occur.
Attractive Websites = Your Appearance
In the world of freemium, having a visually attractive website is key to early success. Websites that are confusing to navigate, or consist of ugly, disorganized graphics and content are likely to be avoided by would-be users. The process of creating and presenting an aesthetically pleasing website is not unlike the process of getting ready to go out to a club or bar to meet someone from the opposite sex. If you are like most people, you make an effort to look your best before being seen by the opposite sex.
Everything from the snazzy clothes you select to the make up you artistically apply to your face is an effort to outshine the other singles in the bar. Aside from just being good looking, you also try your best (perhaps unconsciously) to say a little about yourself with your appearance. In the same way, web designers spend a great deal of time giving their website the look and attitude it needs in order to speak to their taget audience. Few people would wear a Metallica tee shirt and ripped jeans to a five-star restaurant dinner party, but they might if they were headed to a local rock concert.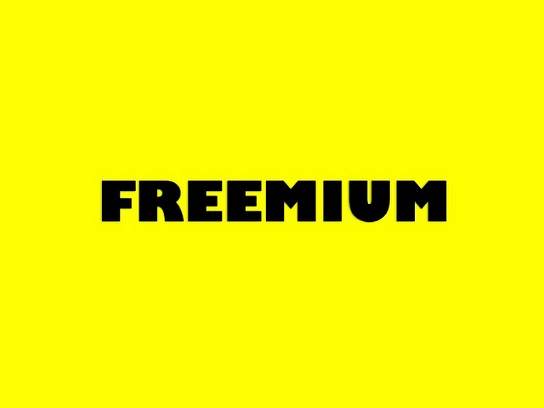 Getting A Visitor To Sign Up = Scoring A Date
Of course, as anyone who has ever been out to a singles bar or club knows, it's never enough to simply look good. In addition to appearance, you need to have something interesting to say if you hope to leave with a phone number in your hand and a date in your calendar. We could very well liken these to leads. And at the end of the day, no one wants to date someone who is only good looking, without any other qualities (of, course this is debatable for a select few). In order to come across as intriguing, some people might practice pick up lines or good openers for conversation with complete strangers.
Similarly, freemium businesses spend a great deal of time writing and perfecting their pitch. Since they may only have one opportunity to tell a new visitor what they can offer, they need to strive to make it sound attractive enough that he or she will want to sign up. This "business pick up line" is one of the most important aspects of the freemium business' website. After all, a great service with no users is about as useless as a beautiful girl that is constantly putting her foot in her mouth. Dating requires substance, just as a successful freemium business needs to offer something useful. In this way, convincing a user to sign up is a lot like scoring a first date with a new partner.
Early Product Experience = The First Date
Once you have successfully appeared attractive and interesting enough to get a date, it comes time to get acquainted with this other person. As you prepare yourself for this all-important first date you hope that the night wont be awkward and that the conversation and laughs will flow smoothly. Interestingly enough, this is exactly what freemium developers hope for their new users as they begin to take the product for a spin: if the service is too confusing or awkward (counter-intuitive) to use, they might simply cancel their membership and write the experience off as a waste of time.
Developers often spend long hours trying to make the user's initial experience and product walk-through as easy to understand and digest as possible. Of course, everyone has some awkward first dates where the two of you just do not click. These are the dates where you find yourself racking your brain for an "emergency" that could come up and get you home in short order without looking like a complete jerk. Freemium companies also have their fair share of bad first experiences, as some people give the product a run-through and decide it just isn't for them. Luckily for the user, it is much easier delete your account and end your "first date" on the web than it is while staring at another person from across a restaurant table.
Upgrading To Paid = The Big Score
Of course, the big hope of most freemium companies is that a user will eventually like the product enough to pay for the premium version of the service. While we aren't suggesting that a one partner should eventually pay for sex, interested partners do look forward to their first roll in the hay as they get to know each other better. In any dating relationship, there often comes a time when the enjoyment of one another becomes too much to keep the "trial version," and the full, unlimited product must be experienced.
Once he (or she…) has made the decision to pay, the premium member hopes that they will not be disappointed by the features of his purchase. Similarly, the couple hope that they will not be disappointed by each other in the act.
Technical Support = Romantic Support
At the end of the day, a paid member of a freemium service is often more involved than the free account holders. He or she might log in much more often and begin to make full use of the new features. Slowly, this product becomes a regular part of his or her daily life. Before long, the user encounters a problem that they need to contact support to help them solve. When this happens, the customer, having paid good money for the service, trusts that the company will be there to help them out.
Going back to dating, the new couple that has made it to this point will eventually run into problems that they need each other to help with. If one has a job interview and needs a ride, they might look to the other for a lift. If one has an especially bad day and needs cheering up, he or she might make a "support call" to the other. In this way, the two lovers are relying on each other to make life easier just as the paid user relies on the company to make their experience as smooth as possible.
Power User = Becoming Serious
As the relationship develops, partners become increasingly serious and invariably learn of each others' nuances and subtle personality traits (characteristics/faults). Paid members of freemium services soon learn every trick in the book, expertly commanding the product down to its last feature. With this new knowledge, the new "power user" can perform feats that free members never even attempt. This is not unlike meeting the parents of your new serious dating partner and learning more about his or her family. As you learn more about their upbringing and observe their interactions with their parents, you in turn learn more about your partner and what makes him or her they way they are today.
Full Implementation = Marriage
The ultimate culmination 0f a dating experience tends to be marriage. Getting married tells the other person (and the world) that you two make each other happy enough to be together forever. Many freemium services allow users to integrate an entire realm of their life into the service. For example, some people use Flickr for all of their photo storage and editing needs. With years of photos meticulously edited and stored in a paid Flickr account, moving to another system becomes costly, arduous and undesirable.
Similarly, once you are married, the act of getting divorced and dating other people is financially and emotionally taxing to carry out. It takes a lot of suffering for a married couple to finalize a divorce, mainly because they have so much invested in the marriage. Fully involved freemium users might put up with a lot of minor annoyances from their product provider because the time and cost involved in switching services is far too high.
Meeting The Developers = Having a Baby
If you love your freemium application so much that you have become a power user and still can't get enough, you might choose to visit a developer's conference and meet the team behind the product. In this way, you can speak directly to the people who have made the product, passing along what you love and what you want to see improved. You might even offer unique insights or feature ideas to the team. In a way, this is not entirely unlike having a baby with your spouse. Your baby represents the biggest commitment you can make with this other person, and as the child grows you begin passing on your life lessons and encouragements to it.
Why The Fremium Model Is A Lot Like Dating