Being a millennial often means being on the go — from classes to band practice to a sports meet, to homework, study groups, and a part-time job. Squeeze in quality time with friends, a boyfriend or girlfriend, and your family, and you're just about as busy as you can be.
How do you maximize your resources to take advantage of every moment? With the tool in your pocket or backpack: your smartphone, iPad, or laptop. The current generation has an advantage no other generation has ever experienced: the ability to access a wealth of knowledge nearly instantly, from anywhere that has an internet connection.
Here are some examples of how Young Go Getters can use online education resources to succeed not only in the classroom, but also in your busy lives.
Scheduling apps
Your parents, and even your older siblings, had to handwrite course and homework schedules into a school-provided datebook. You have access to some of the best educational scheduling apps ever created, including Studious, an app specifically designed to help high school students manage time and plan when to do assignments. Studious even silences your phone when you're in class, and turns the ringer back on when you're not.
With a scheduling app, you are able to instantly see the blocks of free time in your schedule, and slot in various homework commitments and other activities to ensure you get everything done. If you have a 45-minute break between track practice and your community service project, that's a perfect time to hunker down by the locker rooms and crank out some calculus worksheets. These scheduling apps can even help remind you when to buy your mom a birthday present.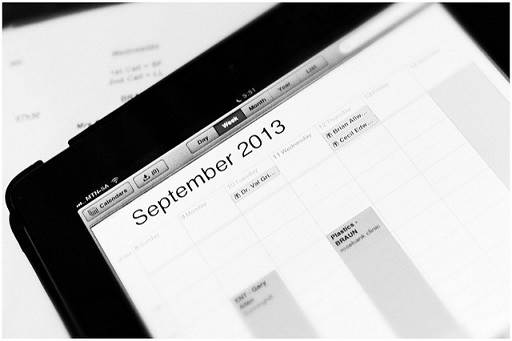 Knowledge banks
Don't carry around heavy textbooks unless you need them. Everything from the complete works of Shakespeare to the full set of Euclidian postulates and theorems can be found online. Start with Mashable's list of 10 Must-Have Apps for Successful High School Students, and you'll have everything from Yorick's skull to a fully-dissected virtual frog at your fingertips. (Unlike actual frog dissection, you won't have to wear gloves or wash your hands afterwards.)
No matter what you're studying, chances are there's an online resource to help. You can also use online resources to look up primary source information on various historical topics, such as newspaper headlines run on D-Day, or original sketches drawn by Leonardo da Vinci.
ACT and SAT prep
Just when you thought your schedule was full enough, you have to make room for the all-important ACT and SAT prep. Students who prepare before taking the SAT and ACT have a huge advantage over students who don't; not only do you learn about the types of questions that will appear on the test, you also learn how to navigate the test itself, and handle hazards such as the SAT's "wrong answer" penalty. (Remember: if you're taking the ACT, it's okay to guess when you have no clue about the answer. If you're taking the SAT, it's not — although educated guesses sometimes work if you are able to eliminate other answers.)
It's always good to take at least one ACT and SAT practice test before taking the real thing, and an in-person test prep class helps you get a quick overview of what to expect on test day. If you need additional test prep, study tips, or tutoring, try the Huntington online library. It travels with you as you go, meaning you can study for these all-important tests while in the car with your parents or while standing in the school cafeteria line.
General improvement
Is spelling not your strong suit? Still unclear on the Circle of Fifths? Nervous that you won't remember the difference between continuous and continual? If you want quick improvement resources, there are plenty of online apps and programs to help you catch up on any subject. Flashcard programs in particular help you quickly review vocabulary words, historical figures, or any other subject in which you need a quick refresher — and the programs automatically keep track of the answers you miss and continue to drill you until they're mastered.
These are only a few of the ways in which online educational resources can help a Young Go Getter master subjects, plan schedules, prep for major tests, and ace coursework. Take some time to explore the best educational apps on the iTunes App Store or Android's Google Play network. The best part about these types of educational apps is that they are both numerous and often free — if you don't find one that works for you, simply try another until you're getting what you need. Then take charge of your time and go, go, go!
On The Go? Online Apps and Tutoring Resources Let You Take Your Education With You